Jeawin Huang
DNW Diaper Production Line Manufacturer Co Ltd
No.19, Quanyuan Road, Jinjiang, Quanzhou, Fujian, China 362261
Biography
China DNW Diaper Production Line Manufacturer Co., Ltd is a comprehensive company in making the hygienic product machine in China.DNW begins as an expert sanitary napkin making machine manufacturer in China. Our products range from sanitary napkin making machine, baby diaper making machine, panty liner machine, breast pad machine,adult baby diaper machine,under pad making machine, packing machine, stacker, auto rewinder(tissue machine) to wet wipe machine.
We offer our machine continuously to the sanitary napkin and baby diaper manufacturers year by year.They are very satisfied with our machine both at quality and price.We earn very good reputation domesticly and abroad.All our clients believes our service and our products.
https://www.dnwmachinery.com.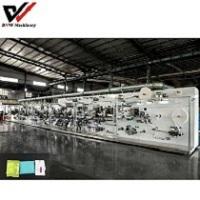 Education & Experience
Education
Title:

Ms

Degree:

Bachelor

Institution:

Xiamen University

Date:

2005 - 2009

Country:

China
Experience
Title:

manager

Organisation:

DNW Diaper Production Line Manufacturer Co., Ltd

Date:

None
Location
No.19, Quanyuan Road, Jinjiang, Quanzhou, Fujian, China 362261