Tag
Tagged:
electronic health records
Directory:
Tags: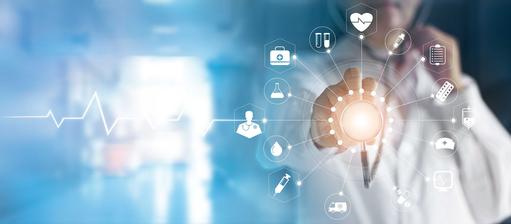 Everyone connected with healthcare supports interoperability saying it improves care, reduces medical errors and lowers costs
But interoperability is a long way from reality and electronic patient records are only part of an answer
Could Blockchain a technology disrupting financial systems resolve interoperability in healthcare?
Blockchain is an open-source decentralized "accounting" platform that underpins crypto currencies
Blockchain does not require any central data hubs, which in healthcare have been shown to be easily breached
Blockchain technology creates a virtual digital ledger that could automatically record every interaction with patient data in a cryptographically verifiable manner
Some experts believe that Blockchain could improve diagnosis, enhance personalised therapies, and prevent highly prevalent devastating and costly diseases
Why aren't healthcare leaders pursuing Blockchain with vigour?
Why Blockchain technology will not disrupt healthcare
Blockchain technology is disrupting financial systems by enhancing the reconciliation of global transactions and creating an immutable audit trail, which significantly enhances the ability to track information at lower costs, while protecting confidentiality. Could Blockchain do something similar for healthcare and resolve the challenges of interoperability by providing an inexpensive and enhanced means to immutably track, store, and protect a variety of patient data from multiple sources, while giving different levels of access to health professionals and the public?
---
Blockchain and crypto currencies
You might not have heard of Blockchain, but probably you have heard of bitcoin; an intangible or crypto currency, which was created in 2008 when a programmer called Satoshi Nakamoto (a pseudonym) described bitcoin's design in a paper posted to a cryptography e-mail list. Then in early 2009 Nakamoto released Blockchain: an open source, global decentralized accounting ledger, which underpins bitcoin by executing and immutably recording transactions without the need of a middleman. Instead of a centrally managed database, copies of the cryptographic balance book are spread across a network and automatically updated as transactions take place. Bitcoin gave rise to other crypto-currencies. Crypto currencies only exist as transactions and balances recorded on a public ledger in the cloud, and verified by a distributed group of computers.
---
Broad support for interoperability
Just about everyone connected with healthcare - clinicians, providers, payers, patients and policy makers - support interoperability, suggesting data must flow rapidly, easily and flawlessly through healthcare ecosystems to reduce medical errors, improve diagnosis, enhance patient care, and lower costs. Despite such overwhelming support, interoperability is a long way from a reality. As a result, health providers spend too much time calling other providers about patient information, emailing images and records, and attempting to coordinate care efforts across disjointed and disconnected healthcare systems. This is a significant drain on valuable human resources, which could be more effectively spent with patients or used to remotely monitor patients' conditions. Blockchain may provide a solution to challenges of interoperability in healthcare.
Electronic patient records do not resolve interoperability

A common misconception is that electronic patient records (EPR) resolve interoperability. They do not. EPRs were created to coordinate patient care inside healthcare settings by replacing paper records and filing cabinets. EPRs were not designed as open systems, which can easily collect, amalgamate and monitor a range of medical, genetic and personal information from multiple sources. To realize the full potential and promise of interoperability EPRs need to be easily accessible digitally, and in addition, have the capability to collect and manage remotely generated patient healthcare data as well as pharmacy and prescription information; family-health histories; genomic information and clinical-study data. To make this a reality existing data management conventions need to be significantly enhanced, and this is where Blockchain could help.
Blockchain will become a standard technology
Think of a bitcoin, or any other crypto currency, as a block capable of storing data. Each block can be subdivided countless times to create subsections. Thus, it is easy to see that a block may serve as a directory for a healthcare provider. Data recorded on a block can be public, but are encrypted and stored across a network. All data are immutable except for additions. Because of these and other capabilities, it seems reasonable to assume that Blockchain may become a standard technology over the next decade.

Blockchain and healthcare
Because crypto currencies are unregulated and sometimes used for money laundering, they are perceived as "shadowy". However, this should not be a reason for not considering Blockchain technology. 30 corporations, including J.P. Morgan and Microsoft, are uniting to develop decentralized computing networks based on Blockchain technology. Further crypto currencies are approaching the mainstream, and within the financial sector, there is significant and growing interests in Blockchain technology to improve interoperability. Financial services and healthcare have similar interoperability challenges, but health providers appear reluctant to contemplate fundamental re-design of EPRs; despite the fact that there is a critical need for innovation as genomic data and personalized targeted therapies rise in significance and require advanced data management capabilities. Here are 2 brief examples, which describe how Blockchain is being used in financial services.
Blockchain's use in financial services
In October 2017, the State Bank of India (SBI) announced its intention to implement Blockchain technology to improve the efficiency, transparency, security and confidentiality of its transactions while reducing costs. In November 2017, the SBI's Blockchain partner, Primechain Technologies suggested that the key benefits of Blockchain for banks include, "Greatly improved security, reduced infrastructure cost, greater transparency, auditability and real-time automated settlements."

Dubai, a global city in the United Arab Emirates, is preparing to introduce emCash as a crypto currency, and could become the world's first Blockchain government by 2020. The changes Dubai is implementing eventually will lead to the end of traditional banking. Driving the transformation is Nasser Saidi, chief economists of the Dubai International Financial Centre, a former vice-governor of the Bank of Lebanon and a former economics and industry minister of that country. Saidi perceives the benefits of Blockchain to include the phasing out of costly traditional infrastructure services such as accounting and auditing.
Significant data challenges
Returning to healthcare, there are specific challenges facing interoperability, which include: (i) how to ensure patient records remain secure and are not lost or corrupted given that so many people are involved in the healthcare process for a single patient, and communication gaps and data-sharing issues are pervasive, and (ii) how can health providers effectively amalgamate and monitor genetic, clinical and personal data from a variety of sources, which are required to improve diagnosis, enhance treatments and reduce the burden of devastating and costly diseases.
Vulnerability of patient data
Not only do EPRs fail to resolve these two basic challenges of interoperability they are vulnerable to cybercriminals. Recently there has been an epidemic of computer hackers stealing EPRs. In June 2016 a hacker claimed to have obtained more than 10m health records, and was alleged to be selling them on the dark web. Also in 2016 in the US there were hundreds of breaches involving millions of EPRs, which were reported to the Department of Health and Human Services. The hacking of 2 American health insurers alone, Anthem and Premera Blue Cross, affected some 90m EPRs.

In the UK, patient data and NHS England's computers are no less secure. On 12 May 2017, a relatively unsophisticated ransomware called WannaCry, infected NHS computers and affected the health service's ability to provide care to patients. In October 2017, the National Audit Office (NAO) published a report on the impact of WannaCry, which found that 19,500 medical appointments were cancelled, computers at 600 primary care offices were locked and five hospitals had to divert ambulances elsewhere. Amyas Morse, head of the NAO suggests that, "The NHS needs to get their act together to ensure the NHS is better protected against future attacks."
Healthcare legacy systems
Despite the potential benefits of Blockchain to healthcare, providers have not worked out fully how to move on from their legacy systems and employ innovative digital technologies with sufficient vigour to effectively enhance the overall quality of care while reducing costs. Instead they tinker at the edges of technologies, and fail to learn from best practices in adjacent industries.

"Doctors and the medical community are the biggest deterrent for change"

Devi Shetty, heart surgeon, founder, and Chairperson of Narayana Health articulates this failure: "Doctors and the medical community are the biggest deterrent for the penetration of innovative IT systems in healthcare to improve patient care . . . IT has penetrated every industry in the world with the exception of healthcare. The only IT in patient care is software built into medical devices, which doctors can't stop. Elsewhere there is a dearth of innovative IT systems to enhance care," see video. Notwithstanding, Shetty believes that, "The future of healthcare is not going to be an extension of the past. The next big thing in healthcare is not going to be a new drug, a new medical device or a new operation. It is going to be IT."
Google, Blockchain and healthcare
Previous HealthPad Commentaries have suggested that the failure of healthcare providers to fully embrace innovative technologies, especially those associated with patient data, has created an opportunity for giant technology companies to enter the healthcare sector, which shall dis-intermediate healthcare professionals.

In May 2017, Google announced that its AI-powered subsidiary, DeepMind Health, intends to develop the "Verifiable Data Audit", which uses Blockchain technology to create a digital ledger, which automatically records every interaction with patient data in a cryptographically verifiable manner. This is expected to significantly reduce medical errors since any change or access to the patient data is visible, and both healthcare providers and patients would be able to securely track personal health records in real-time.

Blockchain is a new innovative and powerful technology that could play a significant role in overcoming the challenges of interoperability in healthcare, which would significantly help to enhance the quality of care, improve diagnosis, reduce costs and prevent devastating diseases. However, even if Blockchain were the perfect technological solution, which enabled interoperability, change would not happen in the short term. As Max Planck said, "A new scientific innovation does not triumph by convincing its opponents and making them see the light, but rather because its opponents eventually die, and a new generation grows up that is familiar with it." While we wait for those who control our healthcare systems to die, billions of people will continue to suffer from preventable lifetime diseases, healthcare costs will escalate, healthcare systems will go bankrupt, and productivity in the general economy will fall.
view in full page